Fab Flash: Design Your Dream Baguette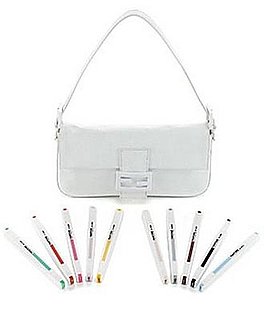 Earlier this year Fendi launched the Paint Your Own Baguette which was a plain version of the classic with ten Pantone Universal markers. Now, Fendi have launched a competition to give the classic a makeover via the Design Your Dream Baguette competition in Asia.
More than 20,000 entries have come from hopeful designers in Hong Kong, Taiwan, South Korea, Singapore and Thailand. They have completed their designs on a computer and submitted them to celebrate ten years of the iconic handbag.
The 50 finalists will have their designs displayed at Hong Kong's Harbour City from Friday til the 11th August.
Silvia Venturini Fendi will chose the five finalists who will get to visit Fendi's headquarters in Rome and Milan and attend the house's spring runway show during Milan Fashion Week.