Fab Flash: Dooney & Bourke Win Louis Vuitton Battle
Fab Flash: Dooney & Bourke Win Louis Vuitton Battle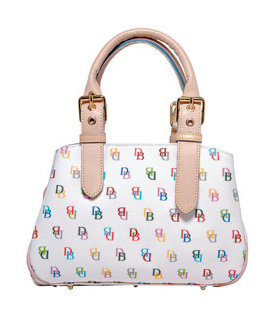 A court battle that has been raging on for four years finally came to a close today as a judge ruled in favour of Dooney & Bourke. The design house had been battling it out with Louis Vuitton over this 'it bag' (pictured) and it's use of a monogram design.
Judge Shira Scheindlin wrote,

"[Louis Vuitton] offered no proof that the similarities in the marks is likely to confuse ordinary consumers, whether it is at the point of initial interest, point-of-sale, or post-sale. Even the testimony of Louis Vuitton's director of intellectual property suggests Louis Vuitton's infringement claim is not necessarily premised on a likelihood of confusion between its products and those of [the] defendant, but rather Louis Vuitton's distaste at being associated with the 'It Bags."
Louis Vuitton always seem to be caught up in some court action, earlier in the year they threatened to sue a Darfur charity.