Fab Flash: Gina Shoes Receive Copy-Cat Compensation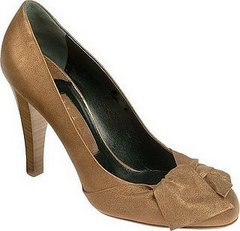 The High Street is now such a great place to shop that you can get catwalk items for less before the designers have even got their pieces in store. This is causing friction between designers and High Street stores.
Last Summer Chloe received a pay out from Topshop due to a yellow dungaree dress and now Gina shoes have taken legal action. The footwear company loved by celebrities have won £100,000 in compensation from Moda in Pelle after finding the copycat shoes on the internet. The shoes in question are 'Zeta' , 'Naomi ' and 'Colette' (pictured). Managing Director of Gina Attila Kurdash explained,

"The scale and audacity of the copying was such that we had to take hard, decisive action. We spend considerable time and effort in developing and creating our original designs. To have them copied like this is un-acceptable, that's why there is a law against it. We have a zero tolerance policy when it comes to copies and will take action whenever necessary."
What do you think about the legal action? Do you think they are justified in protecting their designs?