Fab Flash: Gwyneth Fur Ad Angers PETA
The first time I saw this Tod's ad starring Gwyneth Paltrow in a glossy I was surprised to say the least. The close friend of Stella McCartney and wife of vegetarian Chris Martin seems like a surprising choice for a company that uses not just fur but also ostrich and snakeskin in its products. Tod's describes itself as "refined, understated luxury, impeccable taste and enviable quality." The use of fur on the catwalk was definitely up this season, particularly in Paris where the likes of Jean Paul Gaultier created fur clad collections. Indeed The British Fur Trade Association have commented stating there is a rising global demand for the animal fabric.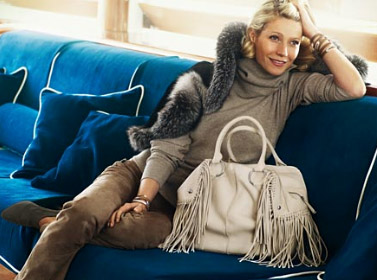 PETA (People for the Ethical Treatment of Animals) are not impressed. They told The Daily Telegraph,

"We've written to her many times, and sent her videos showing how animals suffer for fur, but have never received a response. Apparently her beauty really is only skin deep. Gwyneth Paltrow won't be the apple of her daughter's eye if she continues to flaunt fur. It's a terrible example to set for a young child."
To see the rest of this post read more
Gwyneth made the ads, which were shot by Mario Testino, back in May as she took over from Sienna Miller as the face of Tod's. Some have commented that Gwyneth may have jeopardised her friendship with McCartney who just last week faced problems with Hockley.
Do you think that Gwyneth's appearance in the ad campaign makes her a hypocrite? Or do you think it's perfectly acceptable for her to be the face of Tod's?