Fab Flash: HMV to Sell Clothes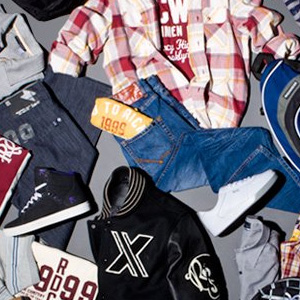 There are many links between the fashion and music worlds. Liking a certain kind of music often results in a signature look, and many artists, Lily Allen and Madonna to name a few, have turned their hand to fashion design.
Music retailer HMV have decided to cash in on this link by stocking clothing in some of their stores. HMV today announced that they would begin carrying men's streetwear labels like Boxfresh, Lee Jeans, Eastpak and Jay-Z's Rocawear.
Although the store initially plans to focus on menswear, they plan to add womenswear in due course. Have you taken my quiz about fashion related lyrics yet? It's an interesting idea to sell clothes and music side by side, but I currently associate music retailers with printed t-shirts. Are you excited to see HMV sell clothes?