Fab Flash: Karl Lagerfeld Dreams of Being a Rapper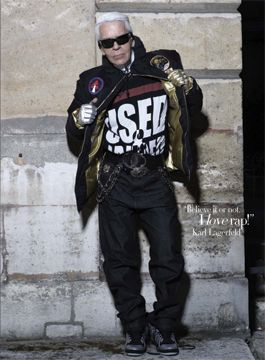 The first time I lay my beedy eye on this picture I thought somebody had been very clever with photoshop. I could not believe the Kaiser himself would dress in such a way, however, it is taken from this month's US Harpers Bazaar where designers are fulfilling their fantasies.
Giorgio Armani as Fred Astaire, Karl Lagerfeld as a rapper ("Believe it or not, I love rap," finally we find out what is on all those ipods) and Alber Elbaz as a Hollywood producer with James Bond flair.
It has also been revealed today that Karl Lagerfeld is illustrating a fashion story for British Vogue. This week he hosted a party in St Tropez but it seems the designer who never sleeps has taken to a more personal approach to parties by hand-painting invitations himself!