Fab Flash: Karl Lagerfeld and Zaha Hadid Join Forces
You might be concerned that this is becoming a blog dedicated to Karl Lagerfeld! Well, fear not I shall leave that to the professionals but as it happens Mr Lagerfeld has been particularly busy of late. Today it was revealed that he would be creating an art installation with architect Zaha Hadid. Last week I revealed that Hadid had created shoes with Melissa but that was clearly not enough of a fashion fix for her! She now plans to create an art installation with Lagerfeld that will be revealed in New York in October before traveling to London.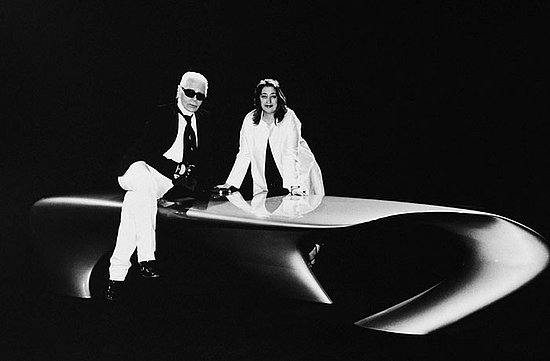 To find out further about their plans read more
The Chanel Mobile Art Pavilion has been described as "a gleaming futuristic pavilion with the startling appearance of a glamorous spaceship". Lagerfeld is said to be very impressed by Hadid describing her as "a kind of Coco Chanel of today". He went on to explain,
"If you are lucky enough to know the greatest living architect, and to have her accept an invitation to do a project, it is magical... This all began with a small sketch, a computer drawing, a concept. I gave Zaha the general idea in a few moments, and her interpretation and fulfilment of that idea is more than perfect."
The structure is a fully "portable and functional container with vast symbolic potential" (like a handbag). Inside is an art exhibition dedicated to iconic Chanel handbags.