Fab Flash: Kate Winslet Fur Trick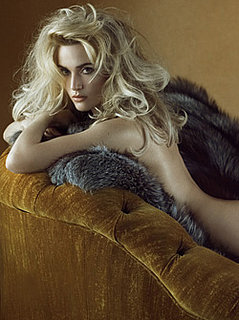 Doing a photoshoot with Kate Winslet must be a slightly risky affair these days as she doesn't seem to do a shoot without controversy. This month as she graces the cover of Vanity Fair Kate has denied any airbrushing but that seems to be the least of her worries.
Today it has been revealed that Kate wasn't aware she was posing with real fur as part of the shoot by Steve Meisel. She was told that the fur was fake but the magazine have been forced to apologise as it emerges that the fur was genuine fox fur.
A spokeswomen for Vanity Fair told The Daily Mail, "Although there were both real and fake furs on set, the fur used in the photograph is real. We thought Miss Winslet was aware of this and we're sorry for the miscommunication." Kate is anti-fur and told PETA that she never wears the animal fabric. Stylists really need to learn to be more sensitive to this subject area. Earlier this year a stylist teamed Stella McCartney lingerie with a Hockley fur jacket.