Fab Flash: Leighton Meester Talks Fashion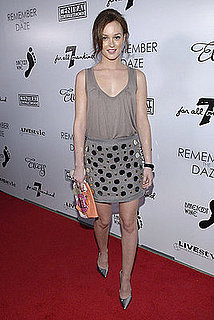 Leighton Meester, star of Gossip Girl and Remember The Daze has spoken to Nylon magazine about her favourite designers and her dreams for having her own clothing line.

"I would love to do my own thing, and see where that could take me. I love fashion, and sometimes I just feel like if I could only do and make whatever I wanted, it would make so much of a statement and really express who I am. So yes, in the future I would love to do a clothing label or work with a clothing label."
She is pictured here at the Remember the Daze premiere early in the week wearing a Missoni mirrored skirt with a Chloe Saskia clutch bag. She includes Missoni in her favourite designers along with DVF, Miu Miu, Alberta Ferreti and Julie Haus.
Leighton also offers some advice to budding actors,"Don't try to be anything but yourself, and find success as yourself, you know? Otherwise, you won't be happy." Don't forget to tune in to Gossip Girl tonight at 10pm on ITV2.
Source