Fab Flash: London Fashion Week Autumn '09 Dates Revealed
Fab Flash: London Fashion Week Autumn '09 Dates Revealed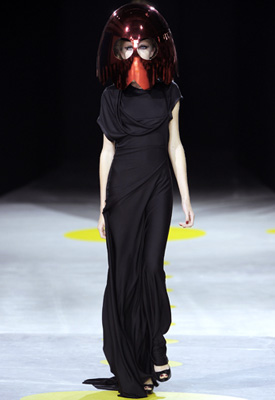 During September's London Fashion Week there was a lot of talk of the future of fashion in the British capital following rumours that New York wanted to overlap their dates. This resulted in the launch of the British Fashion Fund backed by Sir Philip Green and, it seems, the subsequent saving of London Fashion Week!
Yesterday the dates for the Autumn/Winter 2009 shows were released allowing London to have a full five days to showcase the best of the city's talent. Running from Friday 20th February til Tuesday 24th the first day will overlap with New York but most of the designers are apparently not too worried.
To find out why just read more.
Hilary Riva, chairman of the British Fashion Council told Vogue, "This February an overlap with New York has been agreed by the majority of designers showing at London Fashion Week. February is the first fashion week of the 25 Year Celebrations of British Fashion and we look forward to an exciting week showcasing the very best of British design,"
London Fashion Week is often overlooked for it's bigger labeled rivals but British fashion press are continuing to stress the importance of supporting young talent. In September Caryn Franklin told Bella UK, "London is a launch pad. You begin small, with unique work and no budget and London facilitates that. We shouldn't think that London Fashion Week isn't important. It is tremendously important in terms of exporting talent. We export creativity."