Fab Flash: Louis Vuitton Wins Court Battle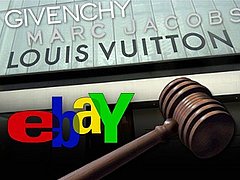 Today saw a ground breaking court ruling which is sure to change the future of both online auction sites and counterfeit goods. Louis Vuitton (who seem to love court drama) took ebay to court over the sale of counterfeit goods on its site, and for selling genuine products outside their desired retail channel.
Paris's Tribunal de Commerce cited "grave errors" on eBay's part following a two-year court battle. Ebay were forced to pay Louis Vuitton 19.3 million euros (£15.2 million), Christian Dior Couture received 17.4 million euros, (£13.8 million) and Parfums Christian Dior, Parfums Kenzo, Guerlain and Parfums Givenchy, were awarded around 3 million euros (£2.4 million).
Ebay was also ordered to stop selling products from those brands immediately (including fragrances and cosmetics) or face a fine of 50,000 euros, or £39,000, a day.
Source