Fab Flash: Paris Causes a Stir in Copenhagen
Paris Hilton has been causing quite a storm this week. Not only has she entered herself in to political debates but she has also been busy promoting her own shoe line traveling far and wide. Yesterday she made an appearance at the Copenhagen Fashion Fair where she was surrounded by bodyguards, photographers and fans all waiting to catch a glimpse of the star.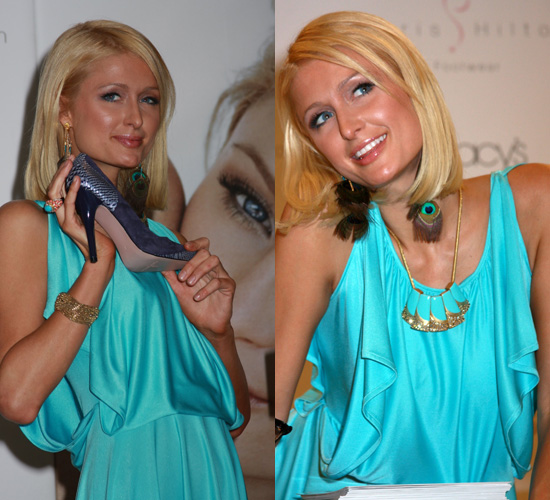 Paris has unusually big feet wearing a US size 11 (UK size 9/ Eur 43) so I am not surprised that she decided to cater for her own needs. Here she is pictured at her shoe launch at Macy's in Las Vegas showing off a lovely pair of peacock earrings. Although the visit to Denmark is business based she confessed to loving the Tivoli Gardens amusement park with Hilton commenting, "I went on one roller coaster, like, three times in a row."
To find out about her handbag line read more
As well as her shoe collection, Paris has created a line of handbags which she has been showing off. The bags are licensed to the Danish firm PH Europe and Paris likes to take a hands-on approach. She told WWD, "We're opening, like, 400 doors only for the handbags worldwide. We're opening everywhere."
They're aiming to open shop-in-shops for Hilton's range named "Enter my world" which will obviously feature a lot of pink. The brands consumer age ranges from 13 to 30!
Source