Fab Flash: Roberto Cavalli Speaks His Mind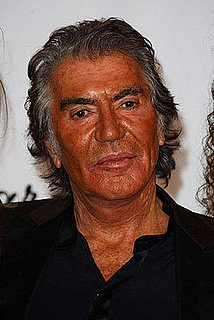 As I'm preparing my best animal print outfit for tonight's talk with Roberto Cavalli I am getting increasingly excited about the scandal that will ensue. Cavalli, it seems, is not one to hold back and he truly spoke his mind to The Telegraph this weekend.
He spoke about Madonna, "She is not nice with anyone: she doesn't know how to be nice," and Victoria Beckham, "Sadly, now that she's in LA, it's difficult to see one another. We talk all the time on the phone, though. She is such a fantastic woman." He is also spoke out about high street/celebrity collaborations,
"I'm very much against all these celebrities doing diffusion lines. Do I suddenly get up in the morning and say that I am going to start a singing career, with the horrible voice that I have? That's what these girls do when they show the world how horrible their fashion ranges are. Money is the most corrosive aspect of life today because it means that all attention to detail is forgotten. Kate Moss's collection was badly made, stupid and bland; you see things like that everywhere. You can't just buy things for the label - it's ridiculous."
It's got to be said that I can't help but agree with the Italian designer, hope he saved some scandal for tonight though which I will of course report back tomorrow!
Source