Fab Flash: Roberto Cavalli Speaks Out...Again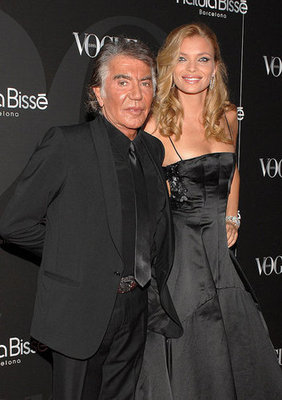 It's getting to be a bit of a common occurrence that Roberto Cavalli speaks out against everyone (except for Victoria Beckham). Back in May the Italian designer talked about many celebrities but now his rant has become more model specific.
Cavalli, who is famous for his use of animal prints took a swipe at Kate Moss whilst speaking to the Observer Food Monthly (quite how Kate would come up in a conversation about food is beyond me) who he thinks just doesn't "have what it takes to be a true star." He added that, "There are thousands of models like all other models. Naomi Campbell is the same way." Ouch.
Naomi recently shared her own views on models but these were slightly more realistic. Roberto, on the other hand, is suggesting that he is the puppet master of the fashion world adding, "For me, models are just pieces of wood that I carve to make clothes look beautiful." Is anybody else slightly scared? Also, if Kate isn't that special, why does she feature in this season's Just Cavalli ad campaign?
To see pictures of Naomi showing off her nothing-special looks (sic) on holiday click here.
Source