Fab Flash: Sainsburys to Fashion Clothing out of Plastic Bags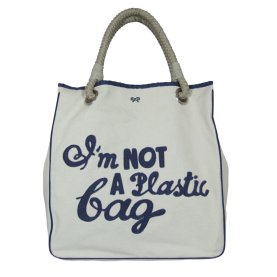 We've spent the past year investing in a range of eco totes in a desperate attempt to ditch the less than chic plastic bag. It started with Anya Hindmarch's I'm not a plastic bag (pictured left) shopper and quickly developed to a full on assault with every store offering their own version. Nearly a year on from the Hindmarch bag, supermarket Sainsburys have come up with a new way to reuse plastic bags by recycling them in to clothes.
Click here to read more
Using discarded plastic from bottles, bags and food containers the supermarket will produce and sell a whole range of clothing including shirts, trousers and skirts. The items will be sold under Sainsburys 'Tu' label in 500 stores across the UK.
Josie Cartridge, Tu's marketing manager told the Observer that the pieces will feel like viscose or polyester-based fabrics. She added, "We'll be the first [supermarket] delivering a new product from our own waste."
Sainsbury's is also sponsoring a fashion show of futuristic textiles at London College of Fashion which is rumoured to include a biodegradable dress.