Fab Flash: Viktor and Rolf Present First British Retrospective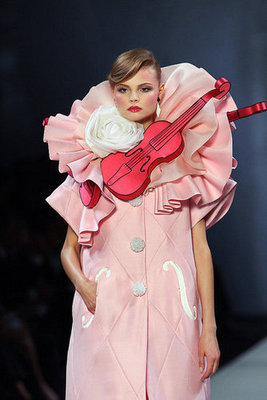 Quirky dutch designers Viktor and Rolf hit the mainstream with their collaboration with High Street retailer H&M in late 2006. However, they have actually been creating as a design duo for fifteen years and now finally have a retrospective exhibition to celebrate.
From June 18th to September 14th the Barbican will host 'The House of Viktor and Rolf' presenting their best pieces starting from their haute-couture collection 'Atomic Bomb'. Rolf spoke to Vogue explaining, "We started out doing art projects and we wanted to go back to our roots. After all, the Barbican is an art space."
The pair have decided to present their pieces in a slightly unconventional way on 60cm-tall porcelain dolls, complete with real hair and make-up. A similar idea was used during World War II by French couturiers presenting collections to the US. These dolls were included at last year's Golden Age of Couture exhibition at the V&A.
Source