Fab Read: Hadley Freeman's The Meaning of Sunglasses
Fab Read: Hadley Freeman's The Meaning of Sunglasses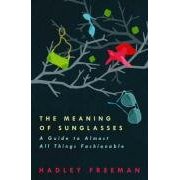 In recent years it seems that fashion literature has been taken over by celebrities from Victoria Beckham, to Rachel Zoe to the Olsen twins, it seems everybody can teach you a thing or two about style. However, when it really comes down to it, wouldn't you rather take advice from an established fashion journalist than a celeb that probably has a stylist anyway?
Hadley Freeman is the deputy fashion editor at the Guardian and a contributing editor to UK Vogue. She has a great, fun approach to fashion which is backed up with informed, and honest opinions. Her book, The Meaning of Sunglasses, grew from her advice column at The Guardian in which she helps people through their fashion dilemmas.
It is layout as an A-Z of fashion covering everything from Advertising to Yoga (and everything in between) and although it's easy to read bits here and there it is a very compelling read and one which will definitely leave you laughing out loud (most probably in public). The book is available from Amazon (£8.99).
To watch a video of Freeman discussing her book with CatwalkQueen read more