Fab Read: Influence by Ashley and Mary-Kate Olsen
Way back in February I reported that the Olsens were to release a book about their influences interviewing key designers and celebrities that they loved. Well, imagine my excitement when the coffee table book finally landed on my desk this week! The Olsens are busy promoting the book around the US but it isn't released here until 27th November. Pop UK and I are hoping they do a similar signing in London!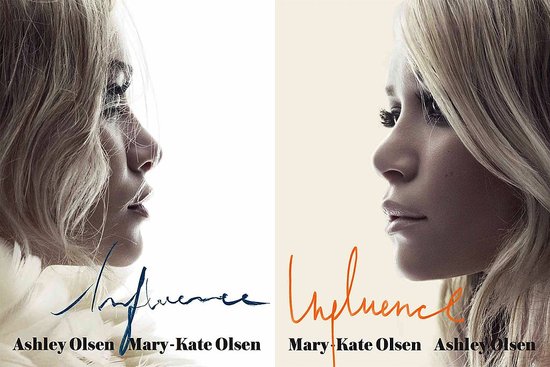 The book contains interviews with the who's who of the fashion world including Karl Lagerfeld, Diane Von Furstenberg, John Galliano and Christian Louboutin. To hear excepts from interviews just read more.
The book is packed with images of the girls and key items from their life which are important to them including a vintage Dior robe and a selection of Mary-Kate's sunglasses. There are collages of photos of the girls when they were young and 100s of polaroids of them rubbing shoulders with the rich and famous. I won't spoil too much but here are some excerpts from the key interviews.
John Galliano "If I could host a fantasy party, it would mirror Truman Capote's infamous black-and-white fancy dress soiree. I would invite him, Marie Antoinette, Napoleon, Lord Nelson, Oscar Wilde and all his dandies, Botticelli, Leonardo da Vinci as well as Andy Warhol, Leigh Bowery and Picasso, Diana Vreeland, Jackie and JFK – as well as all my mates today, Kate [Moss], Gisele, people with style, people who made a mark, people with panache."
Karl Lagerfeld "I love rings. Sometimes with no gloves I wear even more rings. But I put my rings most of the time here [up on his knuckle and under his gloves], because when you say hello to someone it hurts. Sometimes people are rude and sometimes they really sceam!"
Christian Louboutin "When somebody asks me what my favourite shoe is, I always say, "The one I haven't yet designed." I don't look at the past. I guess I don't have a goal – not a precise one anyway."
Giambattista Valli "I love timeless things and I think art is something really timeless. I don't like trendy things. I like to work on style and not on fashion."
Even if you're not that keen on the Olsens it's a really interesting book. I keep picking it up and reading a different bit and learning something new. They have used their design connections well to bring honest interviews from some of the biggest names in fashion. Influence will be available from the end of November, pre order here for £19.