If you're not already familiar with Oli then I suggest you bookmark it right now! It's a relatively new site which is showcasing some of the hottest young names in fashion, including Thomas Vicary, PPQ and Aimee McWilliams. There are also pieces by Jasmine Guinness and Jodie Kidd which are sold at very reasonable prices (trousers by Jodie Kidd from £45, dress by Jasmine Guinness from £50). Lulu Guinness recently listed the site amongst her top three favourite online shops,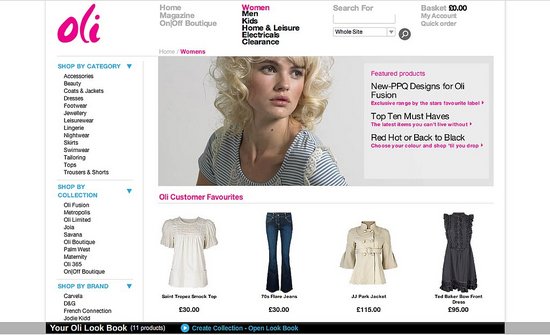 "This features lots of bright up-and-coming-designers like Thomas Vicary and PPQ."
It's a great site to pick up slightly unusual pieces that will leave you standing out from the crowd, especially in the boutique section. Here you can pick up funky top or dress for under £100 that will resemble a one-off designer piece. There is also the On|off boutique which sells pieces by upcoming talent such as Deyck Walker, and Claudine. These are slightly higher priced but a great way to research off schedule London based designers. Why not try out the look book where you can build your own outfit!