Fab Site: Wish Want Wear
Fab Site: Wish Want Wear
Besides hanging with the fun ladies from MAC over at the BAFTA TV style suite that I visited on Thursday, there were a slew of other sponsors to visit. For jewels, I learnt all about Carat, a new costume jewellery line launching later this month at Harrods along with Mark Hill for hair and a new and amazing website for fashion that blew me away called Wish Want Wear.
Wish Want Wear is a service site where you can essentially rent a high end dress of the season at about 10 percent of the retail price. For example, I saw an incredible Matthew Williamson cocktail frock that cost £1,450 and I could 'borrow' it for four days for £150. Not a bad deal. And, they make it really easy for you to return. When you dress arrives, it comes with an envelope that is already addressed and the postage is paid, so literally all you have to do is pop it into a mailbox. They take care of dry cleaning for you and all of the dresses are insured so you don't have to panic if you spill a spot of wine or food.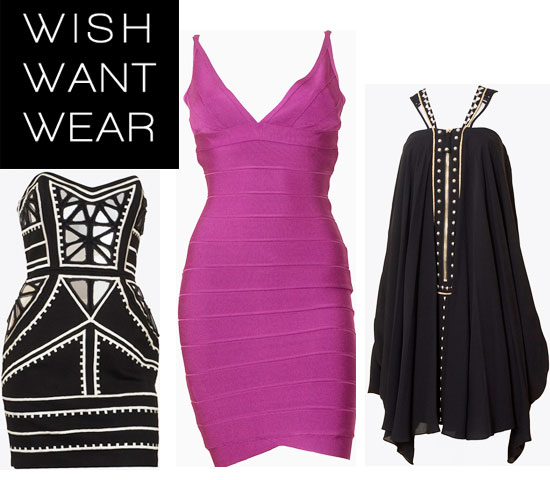 The labels that have signed on to the site already are Temperley, Just Cavalli, Halston Heritage, Herve Leger, Sass and Bide, Alice + Olivia and more. There is a blurb about each of the dresses so you can learn a little bit more about the fit and feel of the product, but because the owners know that sometimes clothing doesn't fit quite, they'll send you two of same dresses in different sizes. The pilot website is up now featuring Summer looks and the big launch will be in the next few months. Is renting a party dress something you'd consider?