Fab Solution: The Low-Back Bra
I just bought a sexy halter-neck dress for a cocktail party Friday night that I'm really excited about. It's a nude sequin mini with a drapey neckline and a sexy back that falls just below where your everyday bra would sit. I thought I'd have no problems wearing those silicone gel stick-on chicken cutlets to give me some shape, but when I got home and tried everything on together, they actually made my breasts look droopy and squashed, and they caused lumpy bumps in the front of the dress.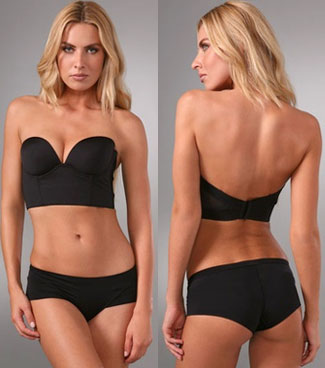 With only a few days to go until my party, I began to panic. I didn't expect the excitement of my fun dress to be crushed. Either I had to find a tailor to sew bra cups into the dress, or I could search for a bra/bustier with a low back.
The women in the lingerie department of Harrods told me what I was looking for didn't exist, but then I hit up ShopstyleUK and found the solution to all of my problems in this Cosabella strapless plungeback bra (£75.44).
It's low enough in the front and falls just right in the back, so you won't be able to see any of the undergarment. I'm so relieved — not only is my problem solved, but now I can shop for other back-bearing items without worry. Shop more low-back bras here!