Fab Worthy: Frank Usher Lace & Sequin Cardigan
Fab Worthy: Frank Usher Lace & Sequin Cardigan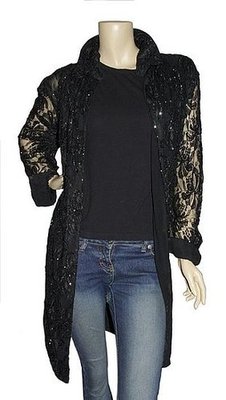 Many of you were quite taken with Fearne Cotton's lace bolero earlier in the week so I suspect you might be excited to see this lace and sequin cardigan by Frank Usher (£60).
This Autumn is all about lace preferably in a gothic style. The easiest (and often cheapest) way to achieve this trend is with a lace shirt or blouse which you can probably dig out in your local charity shop or at your local market.
It's much more fun to do the trend your own way. I love this Frank Usher cardigan as it would be perfect for Autumn through to winter where it would instantly jazz-up a daytime outfit for partywear. You could wear it over an LBD or with skinny jeans (as pictured here). What do you think?