Fab Worthy: Giuseppe Zanotti Mirrored Heel Ankle Boots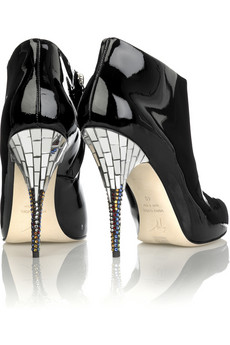 This season it's all about the details and when it comes to shoes, it's all in the detail on the heels. Giuseppe Zanotti has made the ultimate disco boots with these mirror heeled ankle boots (£565).
They have a 5inch stiletto heel but also a hidden platform meaning that they shouldn't feel as high as they look. The heel is encrusted with gems and tiny fragments of mirror.
They're the ultimate rock chick footwear and are sure to make a statement. What do you think? Do they leave you weak at the knees?