Fab Worthy: Long Sonia Rykiel Gloves with Bow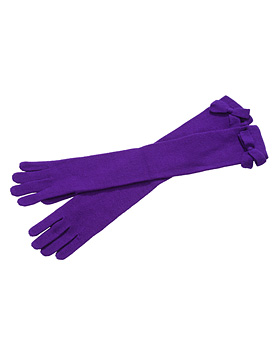 It has been a cold Easter weekend here in old Blighty. There has been a lot of rain, sleet and even a spot of snow so it's easy to leave yourself unprepared for the cold weather. If, like me, your weekend wardrobe fell short of the bare winter essentials such as gloves, a hat and thick socks then you probably would have benefited from a pair of Sonia Rykiel long gloves.
These chic purple gloves are in the sale at Browns and feature cute bow detail. They're the perfect way to keep your hands and lower arm warm, if you want to show them off you could team with a pale-coloured cropped-sleeve jacket. They're available from Browns for £25.