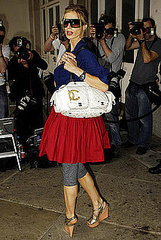 You're probably mainly familiar with Laura Bailey for her appearance in the M&S adverts also starring Erin O'Connor and Twiggy amongst others. Laura is an unusual story in the modeling world as she was not discovered until she was 22 years old and shot to fame due to a slightly controversial relationship with Richard Gere.
Laura is now 35 years old and pregnant with her second child. She has a classic English Rose look with long blonde hair, big eyes and has been described as having "a face like a startled deer". She's a vegetarian and is a big fan of natural beauty products including items from Cowshed in Notting Hill.
She told the Daily Telegraph that she is lucky to be able to continue to model in her thirties.

"I mean, there will always be a demand for skinny 16-year-olds, that's the nature of fashion, but people also seem to appreciate a face that shows signs of character. All I know is that I enjoy it more now than I did when I started."
She has just launched an online stylish maternity boutique Mama-la-mode.
Source