Fabworthy: New Look Patent Sandals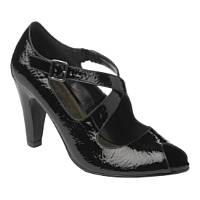 Peep-toe sandals are hard to wear in the current climate as you need tights and people are always left divided as to whether that's acceptable! However, if you are to attempt to wear sandals then darker colours are definitely advisable. I love patent heels, I think they make black heels more interesting and appealing which is why these patent sandals are great.
The best thing about them is probably their tiny price tag of just £20! The cross over strap detail is great for appearing to shorten your feet if you have quite big feet. Pick up a pair now before they sell out.