Fashion Interview With Olivia Palermo
Olivia Palermo Talks Cannes, Crocs, and Summer Essentials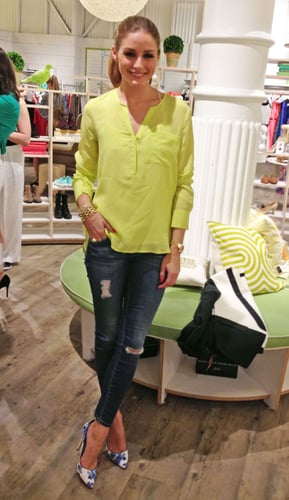 As a style-setting model and business woman, we never miss an opportunity to glean a little sartorial wisdom from Olivia Palermo. So when the fashion darling hosted a night of shopping at Piperlime's SoHo store, we took some time out to chat Cannes glamour, Summer essentials, and even fashion regrets. As usual, there are plenty of style lessons to be had from a sit-down with the ever-chic Olivia — just keep reading.
POPSUGAR: You were just in Cannes where we saw you in a sexier Roberto Cavalli look. It seemed like a bit of a departure for you — what inspired your look?
Olivia Palermo: The Cavallis were sponsoring amfAR and I wanted to pull in on the Cavalli look, and sometimes it's kind of nice to mix it up, look a little sexier.
PS: Have you been to Cannes before?
OP: Yes, I was there a few years ago with Johannes [Huebl], so it was nice to come back and be there for amfAR.
PS: Does your boyfriend Johannes ever offer input on what you're wearing?
OP: We get dressed separately, and that's it. We meet at the door. On occasion, if I ask for an opinion, he'll give it to me [laughs].
PS: You have a knack for styling and have become a source of fashion inspiration for women. When did you first fall in love with fashion?
OP: Fashion has always been in my life, thanks to my mother and my aunt growing up. I think as I became an adult, my style evolved, and my love of fashion evolved even more. Growing up as a kid, school sports, there are other priorities. In my late teens and early 20s, it really started to evolve.
Olivia talks favourite fashion moments, trends she just won't try, and more after the break.
PS: Is there anything when it comes to fashion that you won't try?
OP: Crocs and Birkenstocks. Forget it. It's never going to happen.
PS: Is there any fashion choice you've regretted?
OP: I think we all have had one or two moments. For me I really don't like to regret, you know. It's kind of like, "Move forward; don't dwell on it." Yeah, has there been a suit or two I would've liked to retailor? Sure.
PS: Do you have a favourite moment that stands out in your mind as the best thing you've ever worn? Or a piece you go back to again and again?
OP: Basically all the Valentino dresses I've worn. I think between Valentino and Giambattista, those have been my favourites.
PS: Do you have an icon that inspires your look?
OP: I really get inspired by stylish girls around the world that I see on the street. Colours, patterns, throughout my travels, whatever catches my eye.
PS: Do you have any Summer essentials or a Summer uniform?
OP: Yes, uniform for sure! I tend to like chiffon, very flowy, light. I love a mint green in the Summer. Just adding electric bright colors and florals. Ballet flats are key. Definitely in the Summer, always have a half a size bigger in your shoe . . . 'cause they swell.
PS: You seem to be something of an accessory expert with a great eye for detail. What's your trick?
OP: It's sort of whatever catches the eye. I always have a ring on, a watch, a bracelet — I play around with it. I love to mix colours. For me, I don't have a rule, like "you can't wear silver and gold." You can mix it.
PS: I feel like you must have an incredibly organised closet . . .
OP: [Laughs] I do. I think being organised should be in your lifestyle. I run a few different businesses, so I have to be organised. And I think everyone around me will also feel organised. To have chaos going on, it just doesn't work.
PS: As for shopping, do you have a strategy? Do you go out looking for something or is it just what grabs your attention?
OP: Yeah, it's kind of what catches my eye. I always like to play with a lot of colour. Colour is great. I always say, maybe a little bit more in the Winter, it's great to take some basics and layer and play, but now for Summer, all you need is a great dress.
PS: What's in your bag when you head to the beach?
OP: Always a chiffon dress. Belts. Always a belt. It's always a great way to pinch something if you don't have a tailor on hand. Accessories, ballet flats, and a great pair of strappy heels.
PS: What was your most recent fashion splurge?
OP: When I was in Tokyo, I got some beautiful pieces just from a little boutique. Those are the best, and hardest ones to find now. There are so many mass stores and less little boutiques. Financially, they can't compete.
Photo courtesy of Hannah Weil