The Fashion Week Ponytail You'll Be Dying to Wear
The Fashion Week Ponytail You'll Be Dying to Wear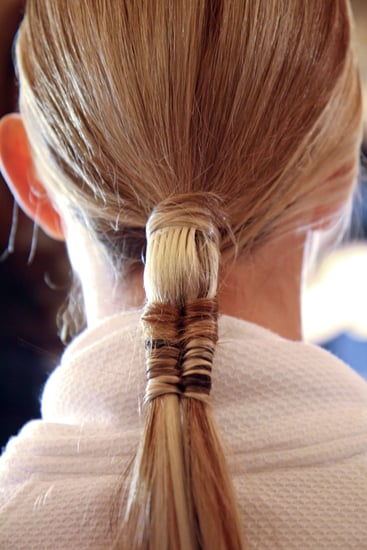 When it comes to ponytails, this style from Marchesa might be the one to try. "It's more interesting than a basic ponytail," lead stylist Renato Campora said of the a sleek fishtail-ponytail hybrid. "It's new and fresh." Creating this look takes some time, but you can do it with a little practice and patience. To find out how to steal this style, read on for the breakdown.
Apply Fekkai Coiff Strong Hold Volume Mousse throughout dry hair and blow it dry until the mousse absorbs. (Sounds unusual, but Campora explained that this will create texture, making the ponytail stay in place.) Follow by straightening hair with a styling iron. Then, create a deep side part at the top of the head; separate the front-side section for now. Pull the rest of the hair into a low ponytail and secure it with a hair elastic. Here's where you'll need the separate section of hair, as you'll pull it back to conceal the hair elastic by wrapping it around. (Use a bobby pin to secure the hair if needed.)
Here's the more complicated part. Divide the ponytail into two sections of equal size. Three inches below the knot, create a tight fishtail. (Learn from our fishtail braid tutorial.) Secure the woven part of the hair with bobby pins, and keep every hair in place with Fekkai Sheer Hold Hairspray — don't worry about overspraying, since this hairstyle is meant to look sleek and shiny.
No, it's not a five-minute endeavor, but with a little practice (and perhaps a friend to help), this can be one head-turning style.