A Few Fab Words with Afshin Feiz Part 2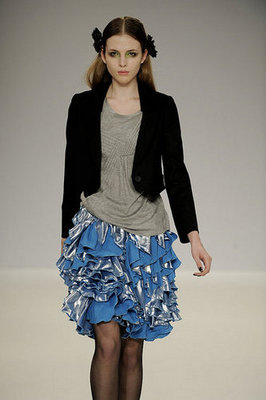 London Fashion Week is only a few months away so designers will spend their Summer busy working away on their creations. Despite this, Afshin Feiz spared a few minutes of his time to talk to us about his latest collection and his interest in a High Street collaboration.
If you missed the first part of the interview, you can catch up here.
There seems to be an ongoing trend for designers to collaborate with High Street stores, would you ever consider this? If so, which store and why?
Yes I would absolutely consider this. It's a means of getting your name and designs out to a larger audience, people who maybe could not afford your clothes normally, are able to buy your designs at much cheaper prices. I'd be very interested in collaborating with The Gap or with UniQlo. I think it would be fun to give my twist on sportswear.
To find out about his next collection read more
What can we expect from your next collection? My next collection is going to be very light and airy mixed with a lot of chains. I don't want to give away too much too soon…
Did you come across any obstacles this season? Being a designer, your business life is one obstacle after another, problems with fabric deliveries, time, fatigue, criticism or whatever else. But you keep your eye on the goal and keep prodding ahead. It's a crazy journey each season but I couldn't see myself doing anything else.
It has been said before that literature inspires your work and you have been referred to as The Poet, how do you feel this translates in your designs? Are there any particular books which have inspired you this season? The real inspiration behind my work is love. I'm a true romantic at heart and whatever I do, it somehow sneaks its way back into my work. The theme of rebirth and starting over in a new skin is something that fascinates me. As I mentioned earlier in the interview I looked back to Rumi's poetry for Autumn/Winter 2008. This coming season Ive been reading Eckhart Tolle's "Awakening to your life's purpose." Its more a spiritual book than literature but I'm finding myself thinking a lot about Buddha's silent sermon where he just stared at a flower for hours on end without saying a word until one monk smiled because he understood his meaning that seeing beauty in a flower could awaken people, however briefly, to their true nature. And the feelings of love and joy are intrinsically connected to that recognition.
Which fictional character, in your opinion, best inhabits the characteristics of your latest collection? Cinderella
And finally, which book will you be reading on the beach this Summer? Gabriel Garcia Marquez's "100 Years of Solitude."