Few Fab Words with Lisa Tsang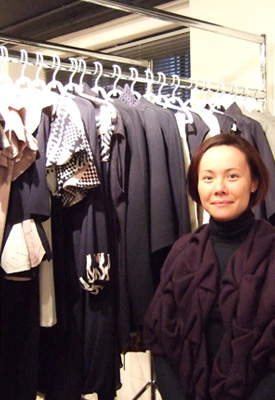 When you think of knitwear you probably think of crew or v-neck plain jumpers or else a horrible Christmas gift a la Bridget Jones. Well, Lisa Tsang (known as Lisa T) is on a one woman mission to change all of that. "That's exactly the problem," she tells me, "I want to change people's perception of knitwear." In the sweetest tone Lisa explains that there are no set rules with her approach to knitwear, "rules are there to be broke... In the nicest possible way!" And her approach is just that, nice. She excitedly tells me about her baby range which leaves me coo-ing as she explains there is a cashmere blanket folded using origami in to the shape of a bunny.
Lisa hails from Hong Kong but trained in London at Central Saint Martins. She continues to split her time almost exactly between the two countries which means she's racked up a fair few airmiles. Knowing this, it isn't surprising that she's trying to get airlines to upgrade their scratchy blankets to her 100% cashmere alternative.
For more from Lisa T just read more.
"I would like to provide for all classes, I travel economy! But it's expensive for the airline. So for now I'm in talks to provide blankets and sleep masks." She had previously also designed a cushion, slippers and wraps but it's a work in progress.
Wanting to offer alternatives for all class of customer is central to Lisa's creative aim. She tells me that she wants to offer "affordable luxury knitwear which is creative yet commercial." She is heavily influenced by the golden age of couture by designers such as Balenciaga and Lanvin and applies their influence to her work. She wants the high quality and finish of couture and this is reflected in her attention to detail.
In the future Lisa is looking in to organic knits as she realises the growing importance of eco fashion. She is also introducing eveningwear to her line which is very intriguing. She is definitely not afraid to interact with customers to find out what they're looking for and has even spent time on the Harrods shop floor. If that kind of hard work and enthusiasm doesn't pay off then her then her innovative designs definitely speak for themselves. See below for images of Lisa's Spring collection.