Florence Welch Talks About Her Ill-Fitting Wardrobe at Chanel! 2010-10-06 05:30:00
Florence Welch Talks About Her Ill-Fitting Wardrobe at Chanel!
Yesterday at the Chanel Fashion Show, I was lucky enough to grab a quick moment with singer Florence Welch to talk about fashion! She was stunningly beautiful with creamy skin and a gentle and kind demeanor. We spoke a little bit about her fashion vice, her very first Chanel purchase and as she was about to give me her thoughts about the show, Lily Allen popped on over to put in her two cents.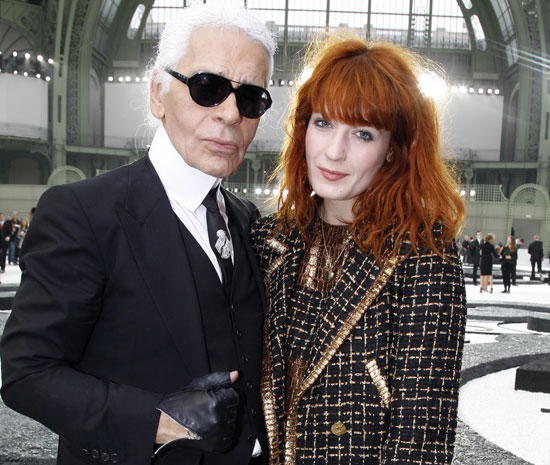 To find out what they had to say, just read more.
FabSugar: What did you think of the show?
Lily Allen: The show was outrageous. I was stunned by the scale of it, it was just beautiful. Although, I have to say that I loved it even more last year when I performed (she giggles).
Florence Welch: I was moved by the show. I had a stronger emotional reaction to it than I expected.
FS: What was your favourite look from the show?
FW: I loved all of it. The shape of the peach feather dress in particular was gorgeous. It looked like a cloud.
FS: What's your most prized Chanel item?
FW: A beautiful mother of pearl necklace that I bought when I reached a certain number of record sales. I wanted to treat myself to something really special.
FS: What are your fashion Inspirations?
FW: They vary —anything from films, or when you go on tour, you are always inspired by different things. One day it could be a ghostly look, and another day something else.
FS: What's your fashion vice?
FW: Dresses, and they always seem to look the same. They fall below the knee and I always buy clothes that are too big for me. And they are always polyester or something that never quite fits well. In fact, I should buy my clothes to fit me better, they never seem to look right.