Fresh Sugar Acaí Body Scrub
New Product Alert: Fresh Sugar Acaí Body Scrub
As a complement to Fresh's Sugar Acaí Age-Delay Body Cream is a brand-new magnificently scented sugar and citrus fruit Body Scrub (£32). Acaí, a Brazilian dark berry is packed with high concentrations of antioxidants, which we know helps fight off free radicals (those nasty cells that cause premature signs of ageing).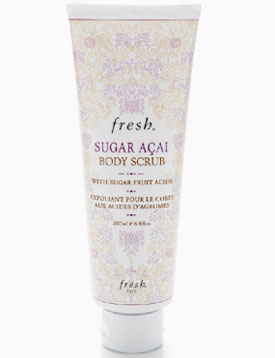 Blended with sugar crystals (I'm not ashamed to admit to doing a little taste test), the scrub is hydrating (from the fruit acids), moisturising (from the cupuaçu seed butter and jojoba oil) and as I mentioned earlier, the aroma is totally intoxicating (there's a hint of caramel and bergamot added to make your mouth water).
I'm a fan of Fresh, not only because I like the packaging and because the prices are fair for a designer brand, but because their products work. This scrub makes my skin look brighter, smoother, softer and more supple, even after just one use. Also, it serves as a cleanser so you don't need to use a body wash after you've exfoliated (that kinda counts as a bargain, right)?
To hear more about this super scrub, read more.
Lastly, there are no nasty parabens inside, only the good stuff that's gentle on my sensitive skin. If ever I was going to recommend a scrub, this, along with the original Brown Sugar Body Polish would tie for first place. I think it's worth the splurge, which is something I don't often say. Do you think you'll try it? If you do, please remember to leave a comment and let me know your thoughts.