Fun Facts About Eyelash Extensions 2011-06-24 04:00:00
7 Things You Didn't Know About Eyelash Extensions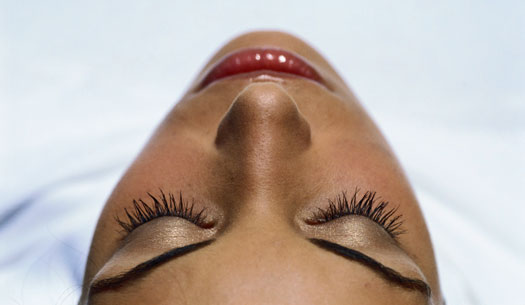 Many people who get eyelash extensions find that, thanks to the volumizing, thickening benefits of the service, they can skip mascara and eyeliner altogether. Also, if you don't like waiting around for several weeks to see the results of a lash-growing solution to do its magic, lash extensions provide immediate gratification. And while pricey, living without smudged eye makeup for several weeks is a major bonus. Want to know more? Co-owners Matana LePlae and Liv Contreras of Lashfully, a San Francisco-based eyelash-extension lounge, have a few interesting facts to share about the eye- and beauty-enhancing service. Just keep reading.
It's normal for your regular lashes to be longer on one side: "They're never twins, just sisters. It goes for brows. It goes for lashes," explains Liv, a licensed aesthetician.
There are countless eyelash-extension options: Liv estimates that Lashfully probably carries almost 100 different styles, from synthetic mink and real mink to highly curled and bold colors like blue and purple. "I've even done Betty Boop-style for Burning Man," she says.
They can work as optical illusions and are easily customizable: If a client has large eyes, Liv will recommend a less curvy lash, to mellow the eye shape out. For clients who have a lazy eye, for instance, she'll add a longer lash on the side of the lazy eye to bring it up and add balance.
They're practically impossible to detect: Liv quips, "After eight or nine years of doing this, there are still tons of women whose husbands don't know."
They can be used on the finest of lashes: Liv and Matana often work with cancer survivors who've lost most of their lashes as a result of treatments. "We start off with a finest-to-fine lashes, and it's precision work," Liv explains. (They do not charge full price for this particular service.)
If dramatic is what you want: Also try bottom lash extensions. They're more theatrical and will really make the eyes pop.
The service is pretty much ageless: Liv and Matana estimate that they have clients from approximately 20 to 82.


Source: 7 Things You Didn't Know About Eyelash Extensions