Gareth Pugh and Nick Knight Create Mercedes Car Ad Campaign
Fab Ad: Nick Knight and Gareth Pugh for Mercedes Benz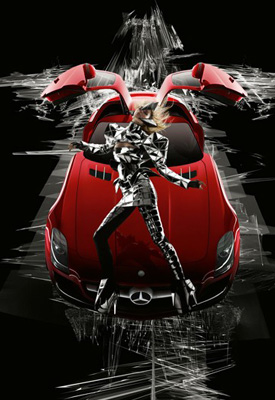 Fashion photographer Nick Knight has been picked by Mercedes to shoot it's latest ad campaign. Knight was chosen because of his innovative use of technology (his website ShowStudio live streams photoshoots to the world) which normally produces edgy fashion shoots.
The advertising for the SLS AMG could easily be mistaken for a style shoot, as Gareth Pugh also played a part. The designer created sculpted, armor-like leggings, a corset and a shoulder piece in black patent leather for the photos. It's not surprising that Mercedes wanted to up their fashion credibility as the car brand sponsors fashion shows around the globe including New York and Berlin.
This ad campaign will appear in glossy magazines in January and will appear on billboard throughout February 2010. Do you think that this collaboration works?