Get Kate Middleton's Canadian Visit Hair
Kate Middleton Shows Us How to Make a Formal Half-Up Look More Fun

What's a newly created duchess to do? During her visit to Ottawa, Kate Windsor (née Middleton) needed a hairstyle that was formal enough for a state visit, but was neither too stuffy nor dowdy. So she came up with a compromise straight out of the mullet playbook: business in the front, party in the back.
Her sleek half-updo was simply swept back, but instead of putting the gathered section into a ponytail, Kate worked in pirouettes of hair and cute butterfly clips. To see the full hairstyle up close and get tips for getting a similar look on your own, just keep reading.
Clip it
Instead of using a ponytail holder to put her hair into a single fall, Kate used two small clips to create separate sections for a more interesting look. You could use the same idea to create two small braids and then spin them into a bun, or follow Kate's example and form separate, '40s-style loops.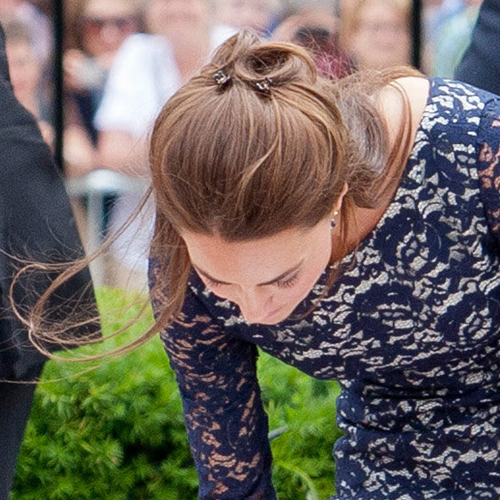 Loop it
To do this, just wrap each section around a cylinder (the center of a toilet paper roll is perfect), pin around it until it's secure, and spritz in hairspray. Remove your "template" slowly, and you're left with lovely loops that are both polished and fashionable.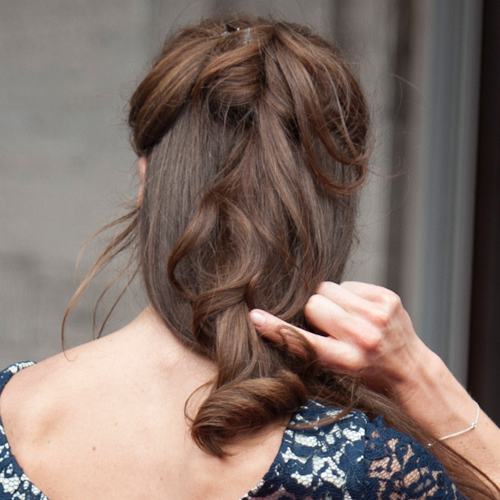 Source: Kate Middleton Shows Us How to Make a Formal Half-Up Look More Fun