Giles Deacon to Show in Paris, Spring 2010,
Fab Flash: Giles is Off to Paris
Whilst many big names like Burberry, and most recently Jonathan Saunders are returning to the capital for fashion week in September, we have just lost one great name!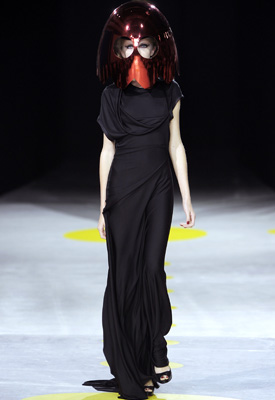 Giles Deacon has been showing his unique designs here for many seasons, but has has just won France's annual ANDAM (Association Nationale pour le Développement des Arts de la Mode) Award.
The award means Giles will receive 160,000 euro (about £137,000) to help fund a show at Paris Fashion Week. It's great news for the designer, but I will certainly be sad to see him go! Previous winners of this award include Viktor and Rolf, Maison Martin Margiela and Brit enfant terrible Gareth Pugh who bagged the sponsorship last year. It's a great way for designers to get noticed by big investors who will help them expand their brands. Gareth has already received interest from LVMH.