Giorgio Armani to Become Part of Italian Senate
Fab Flash: Giorgio Armani for Italian Senate?
Fashion is clearly something that is taken incredibly seriously in Italy. The country is home to some of the world's most famous design houses including Versace, Gucci, and Prada, but could one of the biggest names in fashion now be eyeing up a government position?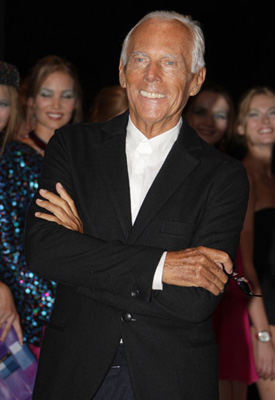 Today, rumours are suggesting that Giorgio Armani has been recommended for a place in the Italian senate.
The Italian President Giorgio Napolitano received a letter nominating Giorgio for a seat from none other than Santo Versace (Donatella's brother). If selected, Giorgio would join the existing seven Senators For Life. Santo wrote, "Armani is the best candidate to receive the nominee for senator for life," adding that "the image of our country would've been very different without" Mr. Armani's success in fashion. He also argued that, "No one can do a better job than Giorgio Armani in showing the beauty of Italy — the Italy that we desire."
It's an interesting proposal particularly recently as the fashion and political worlds become increasingly linked, with Carla Bruni being the first lady of France, Michelle Obama supporting upcoming American designers, Sarah Brown helping out London Fashion Week and Samantha Cameron being the creative director of Smythson. This has lead me to think of more fashion/political mixes, like Paul Smith for Prime Minister or Christopher Bailey for business secretary! It would certainly make parliament a more stylish place.