Glitterarti: Carrie Necklace at Punky Pins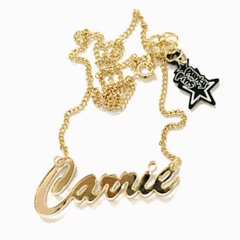 Don't pretend like you're not actually counting down the days til the release of the Sex and The City Movie and that you haven't already dusted down your best pair of heels in preparation! But, have you considered a name necklace yet? Having a 'Carrie' name necklace (unless your name is Carrie) might be an obsessive fan step too far even for me, but fear not as they can be personalised and delivered straight to your door.
This necklace is by Punky Pins and will set you back a mere £20. Not bad when compared to those £400 Manolo heels that you're going to have to get.