Glitterati: Beaded Hoop Earrings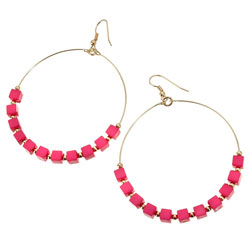 Hoop earrings are a good investment as they compliment almost any outfit. You can also pick up a nice pair for a relatively low price. However, twists on a classic are always a good addition, for example these cube beads on hoop earrings (£6).
They'd be great in the summer with loosely styled hair and a tribal or floral print dress. Alternatively dress down with wide-legged jeans and a floaty top.