Glitterati: Heart Shaped Jewellery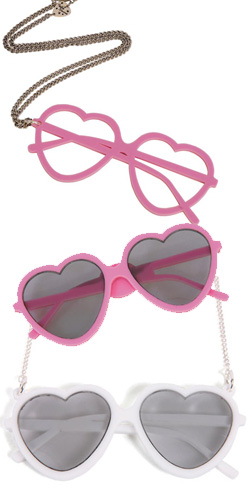 So you already know about heart-shaped sunglasses which may seem a little too child-like for you but do you know about heart-shaped jewellery? Funky London-based jewellery company Tatty Devine are now selling heart-shaped pieces.
If the sunglasses are too much then a funky heart-shaped sunglasses pendant might be more your thing. You can opt for a cut-out pendant (£35) or heart glasses pendant (£41). Alternatively, you can nod to the style with my personal favourite, a heart-shaped glasses brooch (£41). It's a great way to make sure you're wearing your glasses in rain or shine! It would also make a great gift for anybody that already seems to have everything!