Gok Wan, Interview, Miss Naked Beauty, Autumn Trend Tips
A Few Fab Words With Gok Wan, Part 2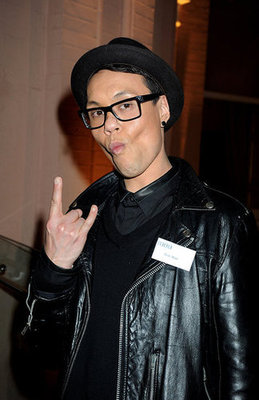 Here is the second part of my interview with Gok himself. He is so packed with enthusiasm that just speaking to him for 10 minutes left me feeling great about myself. Gok genuinely cares about women and wants them to look their best. When he was a teenager he weighed over 20 stone and aged 21 did a crash diet to lose 11 stone! He claims that this personal experience has allowed him to relate to women.
Gok is currently hosting Miss Naked Beauty on Channel 4 and a new series of How to Look Good Naked is planned for next year.
How do you inspire such confidence in women?
I think that I have a natural empathy with women and I also think that I genuinely care about how they feel about themselves. I think also my own personal story has allowed me to relate to them.
What do you think makes your approach to style so accessible?
I think it's honest, but at the same time I think it's creative. I think I allow people to get higher end looks from the High Street.
To hear Gok's tips for the new season as well as what it is like to work with Alexa and Mylene just read more.
Any tips on what to wear this season or key pieces?
Personally I'm loving two looks this season. Number one is heritage which I love. Keep it really, really flat with textures and keep check prints to a minimum and I'm also loving gothic rock. Any kind of adornment and keep it body sculptured or body con.
Any favourite catwalk designers this season?
Er I love Alaia, and I love Comme de Garcons and Galliano stuff was absolutely amazing and...Philip Lim jumped out for me and Lanvin. It was a good season.
Are you looking forward to Comme de Garcons for H&M?
I bloody well am! I tell you I'll be first in the queue and I want a preview. I'll be down the front in my tent waiting for the shop to open.
Any style icons for yourself?
Patricia Field, Adam and the Ants, Ozzy Osbourne, Cyndi Lauper I thought she was brilliant with what she did in her era.
Miss Naked Beauty starts tonight what can we expect from it?
Oh tune in at 8 o'clock it's amazing. You need to sky plus it girlfriend because it's the hottest show this year. Honestly sky plus it it's going to be amazing. It's basically a search for a beauty icon for 2008. It's reclaiming the beauty pageants of the 1950s. Its not looking just for physicality it's looking for someone who's brains, balls and beauty.
What are the differences between working with Alexa and Myleene?
Both of them were amazing but they're very different girls. Myleene is very much what you see on the television; she's honest, she's real she's natural. And Alexa Chung is just as cool as you imagine, I think cooler. It was a treat to work with both of them.
Catch up with the first part of my interview here.