Gossip Girl Serena's Style, Get the Look, Blake Lively
I Want This Wardrobe: Serena van der Woodsen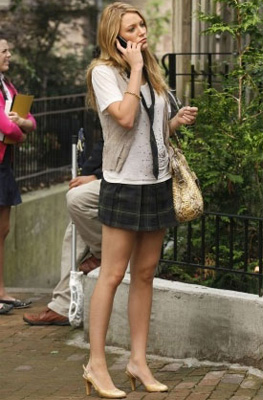 On this week's episode of Gossip Girl we saw the girls return to school as Serena gives Blair a run for her money as Queen Bee.
At school the girls have a unique take on their uniform which included plenty of accessories for Isabel and Penelope, vintage lace for Blair, and a layered look for Serena. I like how she wore a biscuit coloured waistcoat over a plain white tee for a subtle contrast and kept accessories nude.
Serena always wears short skirts (and with legs like that, why not?) Copy the look with a tartan bow tulip skirt (£30) and patent pumps. Since it's typically not warm enough in the UK to have bare legs, update the look with tights. See below to get Serena's school style.
Image courtesy of The CW