Grazia's 3D Issue Hits Newsstands
Grazia 3D Issue Hits Newsstands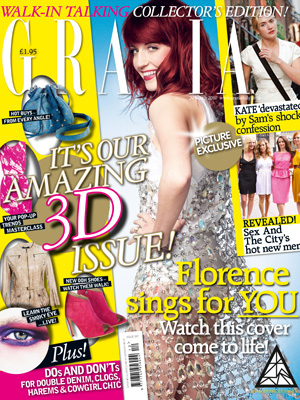 Last week, I revealed that Grazia were preparing a 3D issue with a singing and dancing coverstar. Today, as the magazine hits newsstands, more details about it are revealed including how they are achieving the 3D element.
Florence Welch appears on the cover which, along with other key pages, is embedded with codes that activate augmented reality technology. You can see the 3D element by holding the pages up to a computer's Web cam or to an iPhone.
Aside from the cover, other 3D stories include an eye makeup how-to by makeup artist Lisa Eldridge and 360 degree spring trends from Grazia's editors. Jane Bruton, who is Grazia's editor in chief, described the effect as "stunning".