Grazia Live from Westfield London,
On Our Radar: Grazia Live at Westfield
If you've ever wanted to know how a fashion magazine works and Ugly Betty doesn't quite satisfy your curiousity then get down to Westfield London this week where you can witness the live workings of weekly glossy Grazia. The project, which is being described as, "the most ambitious project any British magazine has ever undertaken" sees the entire Grazia office moving to a perspex pod at Westfield shopping center. The 46-person team will be working in the new office from today until Friday and the live issue will be out next Tuesday 11th.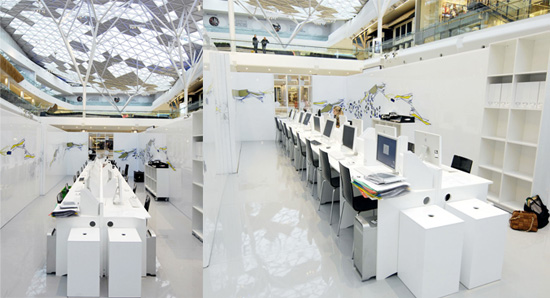 Editor-in-chief Jane Bruton commented, "The Grazia team like nothing better that leaping into the unknown, so we're up for the challenge. We're also beyond excited that people will be able to come to Westfield London, and get involved in producing that week's issue. My only worry is having to send out regular search parties to drag my staff out of all the shops!"