Gwyneth Paltrow in Black Leather Dress 2012
Gwyneth Paltrow Knows How to Work a Hugo Boss Dress — Make That Two
Gwyneth Paltrow exercised her mastery over the perfect cocktail dress two ways, and in doing so, proved that making a high-impact dress statement is as easy as sticking to the classics. As the face of Hugo Boss's new fragrance, Boss Nuit Pour Femme, the actress made the rounds in Madrid, Spain — providing the groundwork for some great outfits. First, she donned a bright orange Boss Black number, which showed off her legs and one very cool pair of Thierry Mugler heels. From the front, you'll notice they look like regular black pumps, but from the side, these pumps feature a PVC silhouette and a slick metallic heel. The lesson here? A bold color choice and a shoe that showcases more than meets the eye (initially) can take your ensemble for chic to downright eye-catching.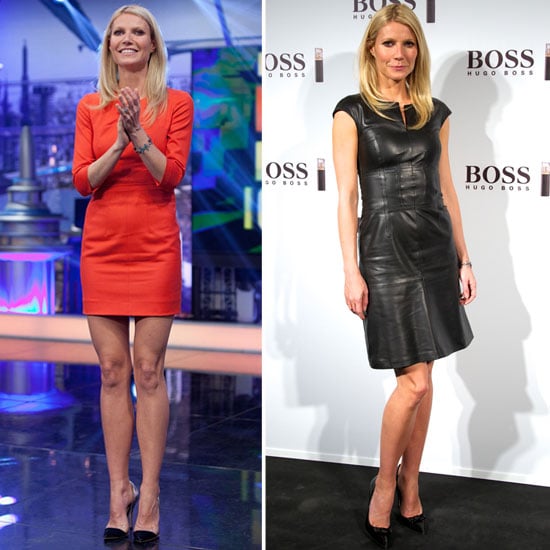 Next, Gwyneth switched it up with another Hugo Boss dress, but this time, slipped into an ultrafitted leather LBD. To complement the dress, she wore Jimmy Choo patent leather bow-front pumps. We love that this darker juxtaposition shows off an easy balance between sexy on top and sweet on bottom. Whether you're more of a bright hues and standout accessories kind of girl, or you prefer a monochromatic palette and subtle accents, look to Gwyneth's latest for an extra dose of Fall dressing inspiration.
Let a bold color speak for itself. Like Gwyneth showed, there's no need to go overboard with embellishments or loud accessories. When you've got a bright hue involved, it's more effective to keep it simple and clean.
With that said, you can still have fun with your shoes. We're not saying, pair the look with a sexy lace-up bootie or go the glitter-infused route, but rather, choose a heel that has an element of surprise. Whether the heel is a bit embellished or you happen to love a cap-toe design, both are great options.
If you choose to wear a leather LBD, make sure to offset the sexy leather finish with something sweeter on bottom. We love Gwyneth's bow-front pumps, but you could also try on a pair of lower-heeled slingback pumps for a more sophisticated vibe.