Gwyneth Paltrows Clothing line for ZoeTees Revealed, Photos of the Items
Gwyneth Paltrow for ZOEtees Unveiled
It feels like years have passed since Gwyneth Paltrow announced her collaboration with ZOEtees. The actress decided to create a seven look capsule collection with all profits going to the Kids Company. Well, now the time has nearly come for the pieces to hit stores and I have a sneak preview of some of the pieces involved.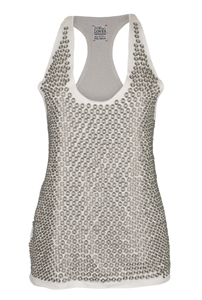 Gwyneth wanted to create pieces that were comfortable and practical, but elegant enough for a night out. ZOEtees's designer Michele Corty explained, "Creating a collection for Gwyneth was an opportunity to combine quality fabrics with innovative cuts inspired by the
personal style of a fashion icon….every designer's dream." The pieces are eco friendly produced from recycled cotton, cashmere blends and wool mesh.
My favourite pieces is the soft cotton jumpsuit which could be dressed up with key accessories and heels or dressed down, making it the perfect work to party item.
To find out where you can get your hands on these designs and to see more items from the range, just read more.
The collection will be available at Matches from Monday 24th August with prices ranging from £100 - £595. If you can't wait 'til then, you can pre-order by calling 0207 221 0255. What do you think of Gwyneth's design debut?