H! by Henry Holland Swimwear Campaign Unveiled Starring Fiona Kennedy
Henry Holland Picks New Face for Swimwear Campaign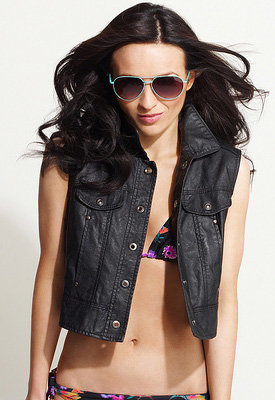 Henry Holland has been busy working on his latest collection for Debenhams. The H! by Henry Holland High Summer line follows in the success of his Spring pieces and will this time include swimwear.
The swimwear campaign has just been unveiled and it stars a new face. Fiona Kennedy entered the 'find a face' competition to be a face on a clutch bag from the Spring line and Henry spotted her. He commented, "Fiona caught my eye immediately. She looks lively, happy and fun so I thought she'd be the perfect girl to represent the new H! swim range."
She is only 5'4 which didn't make her an obvious choice. Sasha Nagalingham, Swimwear buyer at Debenhams added, "Fiona might not meet traditional criteria for a professional model, but she is beautiful, a natural on set and has a great personality- someone the H! customer will really relate to."