Hair Colour and Success
The British Vote Brunette As Favourite Shade of the Nation
A 30 question survey of 3,421 adults by Tickbox.net reveals that brown hair is the UK's most popular hair colour. Apparently, people associate brunettes with being genuine, intelligent, confident and ambitious. Not only are they better the bedroom, but they're more successful at work. If you can believe it, double the amount of brunettes are in positions that earn between £45-£55k. As a brunette, I feel so proud!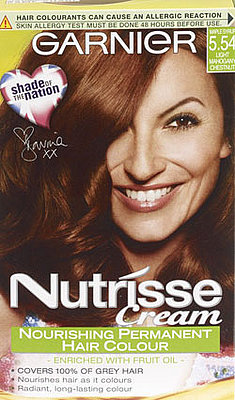 Garnier Nutrisse has applied this information to their product range. Not only have they chosen the sexy Davina McCall as the face of Garnier Nutrisse Cream, but they understand that "your hair shade affects how the world sees you... and how you see yourself. While blondes may be believed to have more fun, brunettes prove to be better all round."
I guess it's no wonder why Mahogany Chestnut Brown #5.54 (due out this February) was rated highest among the new shades.
It seems that the blokes love brunettes too, as the survey also shows that one in ten men feel more successful with a brunette on their arm and 70 percent of men marry, or choose brunettes as relationship partners.
For additional fun hair colour facts, read more.
Blondes are more fun-loving (43%), than redheads (42%) or brunettes (15%).
Redheads are more spontaneous (53%), than blondes (34% or brunettes (13%).
Redheads are more fiery (78%) than blondes (12%) or brunettes (10%).
Brunettes are the most even-tempered (66%) versus, blondes (27%) and redheads (7%).
Did you know that 45% of women colour their hair to feel more attractive?