Halloween Classics: Get a Breakfast at Tiffany's Costume
Halloween Classics: Get a Breakfast at Tiffany's Costume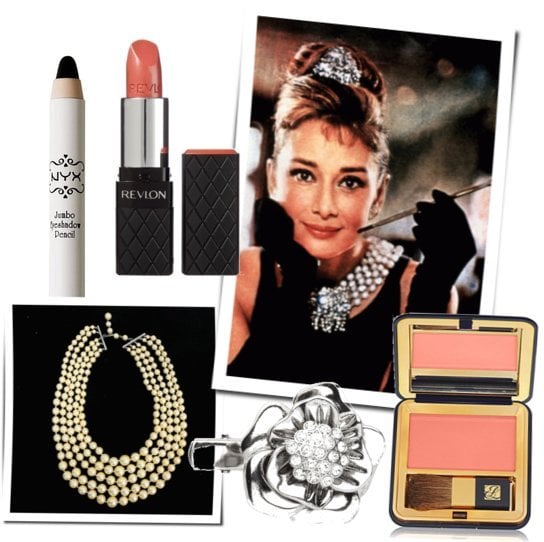 When you're just not sure what to dress up as for Halloween, you can always rely on a popular classic: Holly Golightly from Breakfast at Tiffany's. Today just happens to mark the 50th year anniversary of the flick, as well, making it even more of a special choice for 2011. And luckily, channeling Audrey Hepburn in her role as the eccentric-yet-misguided society girl is easy.
For the makeup: It's all about creating a peaches-and-cream glow with creamy, warm pink cheeks and lips. Pair with black eyeliner and curl-enhancing mascara, along with a touch of champagne (what else?) shadow on the lids. Finish with well-groomed brows and false lashes as needed.
For the hair: If a tiara is hard to come by (or a tad pricey for your Halloween costume budget), go with an oversized rhinestone barrette instead, like this flower hair clip ($4) from Charlotte Russe. Of course, your look won't be complete without your hair styled in a French twist and baby bangs — cheat the style here with this Holly Golightly wig ($15).
For your ensemble: Don a slinky black halter gown, long formal gloves, rhinestone earrings, and a multiple-strand faux pearl necklace, and you have yourself an iconic getup if there ever was one.

Source: Halloween Classics: Get a Breakfast at Tiffany's Costume