Halloween, Tatty Devine, Jewellery, Ghosts, Name Necklace
Glitterati: Halloween Jewellery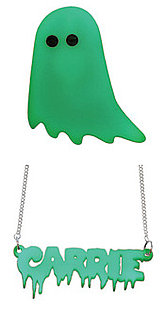 Halloween is mere days away now but if you haven't yet got in ghoulish mood then why not treat yourself to some quirky jewellery? The masters of fun jewellery at Tatty Devine have created a range of Halloween jewellery featuring a cheeky looking ghost.
Tatty Devine are famous for their name necklaces but they have a scary twist this October. The bloody name necklace is available in four different colours (£25) but orders must be placed today to get it in time for Friday.
If the necklace is too grusome they why not opt for a glow in the dark ghost brooch instead (£25)? Add to the lapel of a blazer for a subtle nod to Halloween in the work place.